Mum and Dad?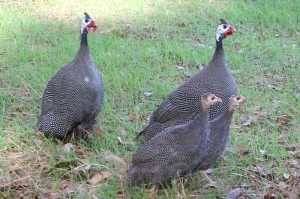 I let Bill and Ben out for the first time as they are just under 10 weeks old and still have their baby voices.  I thought if they met the Original Six (OS) and the Young Ones (YO) when they still looked and sounded like babies, they were less likely to be picked on.    The theory seems to have worked – at least for their first hour together.  They definitely still look like babies compared to the OS.
They had about an hour on their own when I first let them out,  Bill flew into a tree and Ben explored the home territory.
The flock immediately came to check them out when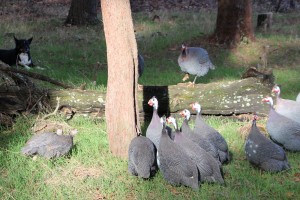 they came over and there were no dramas.  The YO soon lost interest and went away but the little ones tagged along with the OS and were even eating with them.
I left them alone for about 40 minutes while I did the feeding round and was amazed to see Bill and Ben back in their coop when I came back to give them tea.   It had taken 30 minutes to get YOs back in one time when we let them out.  I like to think that they herded the Littlies back in knowing that they would be safer inside over night.