Settling In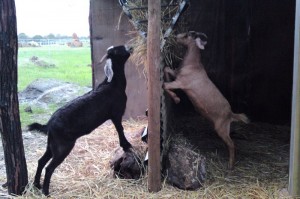 One week after arriving, the goats are settling in and laid down for the first time today.  I went in at morning tea  and they both ate some hay then laid down in the sun and out of the wind.  It only lasted a few minutes, but it was a start.
Midge is still butting Smudge, but not so much and not all the time, they were eating from the same hay pile for a bit this morning and shared some spotted gum leaves I tried on them.  Just after this picture was taken, Midge charged Smudge in the pen and Smidge went up and over the breakfast bar!  I don't want this to be a regular event, so I hope they sort out the hierarchy soon.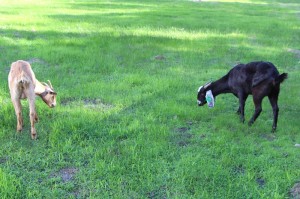 We have discovered that they seem to like emu bush Eremophila even more than Tagasaste and are eating our Guildford Grass which hopefully won't lead to problems.  It is not good for horses, sheep or cows as it can ball up in the stomach.   27  yo Bowie had a bit stuck in his throat on Monday, but after a bit of massaging, I was able to clear the obstruction.   Goats are renowned for their digestive abilities, so I am not too worried.