Happy Birthday Midge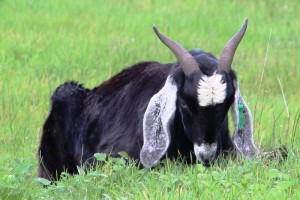 Happy Birthday to our independent goat Midge, she turned two today, the 4th of July.  She is supposed to be pregnant for the first time, but it is notoriously hard to tell with goats as a healthy Rumen/Stomach can make them look pregnant.
A Tennessee goat farmer says "You are not raising goats. . . . you are raising rumens", and at Fiasco Farm they say the "rumen is a big fermentation vat, and the bigger it is the better they process their food."
She is almost 3 months into her 5 month pregnancy –  she went in with the buck in mid April – and I should be able to start feeling the kids moving in her lower abdomen over the next few weeks.   Even this is not guaranteed, and some goat breeders have reported not feeling any movement right up to the birth.