Childhood Dream
I was horse mad from 7 years old and 40 years later, I still have all my childhood horse and pony books and of course my Britain's 1:32 model horse collection.  All I dreamed of was having my own pony.  I made a saddle out of a flattened cardboard box and "rode" a wall in the backyard and went to the riding stables whenever I could.  During the school holidays, my Dad would drop me off at the stables on his way to work at 8am and pick me up at 5pm and I mucked out stables and groomed horses all day, I was in heaven. I can still remember the names and personalities of the ponies I rode 35 years ago.  I entered any competition to win a pony and would stand by the window waiting for the float to arrive, so sure that because I wanted it so badly, I would win.  I had nowhere to keep a pony, but that was an insignificant detail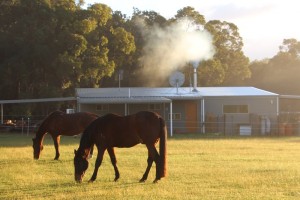 to me.  My Dad told my Godmother that he really wanted me to have a horse one day.  He died when I was 18, but I got my first horse 15 years ago when I was 33.  My Godmother died last year but she was so happy that I had made my Dad's wish come true.   I am writing this Journal because of a book she gave me about nature when I was 12.
I was thinking of this a couple of days ago when I read a blog post by Mary Johnson King who was writing about having to leave her beloved home where she could sit on her porch and see her horses out front.   I wrote and told her that just over 10 years ago I too had lost my home with my horses out front, but 4 years ago, I came to an even better one.
Life twists and turns, and as they say, what doesn't kill you makes you stronger.