Different soil types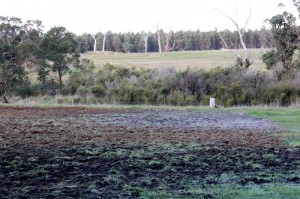 This is a great image showing the range of soils we have across the property – gutless grey sands, humus rich black soil and red lateritic gravelly loam soils – the main wine producing soils in the Margaret River wine region.  We have mostly grey sand and ironstone "coffee rock" on the top of our ridge where we have built most of the infrastucture, planted trees and this year's oats.  A small band of grey sand is  visible at the south-eastern  boundary of the new oat paddock on our valley floor, which at 100m above sea level is almost 20 metres lower.  Most of the new oat paddock looks like red loam with good clay content which will be much better for growing our oats, and anything else.   The new area is about 2 acres, compared to our current 3 acre paddock,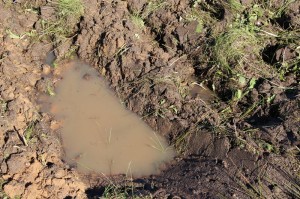 but we should get closer to 80 bales per acre rather than the 50 per acre we got from the sandy soil.   Those 160 bales of oaten hay and the 120 of meadow hay will be enough for the horses and goats for the year.  We will probabaly chaff some of the oaten hay too.  Next plan is to find somewhere to grow the alfalfa/lucerne and we will almost be self sufficient for horse and goat feed.  Our neighbour said that the bottom corner of the paddock was a bit wet – he sank in a bit – so we won't be growing it down this low as it doesn't like to get waterlogged.  The red soils may have too much aluminium for the lucerne too.  We will get some soil tests done.