Wiltshire Horn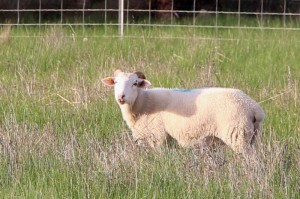 Two of our ewes are Wiltshire Horn, I chose them as they looked healthy and strong.  The breeder said we could cut off their horns if they caused problems, but I won't.  I know how important they are to goats and I imagine it is the same for sheep.  If they get their heads stuck in the fence too often, we will run an electric wire round to keep them away from it.
They are classed as a heritage breed (some say they date them back to Roman times) and almost became extinct because of the very reason we chose them, their ability to shed their wool.   The breed fell out of favour in the UK during the nineteenth century when the price of wool soared and wool sheep became more profitable.   The breed was saved from extinction by a small group of enthusiastic breeders who formed the Wiltshire Horn Sheep Society in 1923.   In the 1970's the breed came under the protection of the UK's Rare Breeds Survival Trust because numbers were so low.
They have only been widely available in Australia since 2006 when the first on-property auction for Wiltshire Horn and the polled Wiltipoll was held.  They were initially laughed at by sheep farmers for their scruffy-looking fleece – very different from the prized aussie icon the Merino – but are now a viable alternative for prime lamb farmers.   The fact they shed their own fleece is now seen as a help rather than a hindrance.  There are only a couple of farmers in this area with Wilties and most people looked puzzled when I said we were buying Wiltipolls rather than the more popular shedders, the Dorpers and Damaras.
The Wiltshire Horn has a short fleece that sheds in the spring leaving a short hair coat for summer.  The fleece will then grow again in the autumn.  They are classed as easy care as there is no need for shearing, crutching, dipping, tail docking or (thankfully) mulesing.
Australian farmers had started moving away from Mulesing after public campaigns from PETA and RSCPA, but alternatives such as using clips to cut circulation so skin falls off after a few weeks have been ineffective and the un-mulesed fleeces did not attract a premium price.   A  Melbourne University study of three Victorian farms found unmulesed sheep treated with the chemical dicyclanil resisted flystrike, but still retained large amounts of faeces and urine in their fleece.  Sheep treated with clips were seven times more likely to be flystruck.