Rain Radar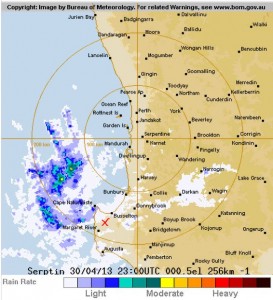 My Galaxy smartphone has become an essential tool on the farm. First thing in the morning, before even getting out of bed, I check the BoM rain radar.  When I saw what was coming, I lept up and rushed through the chores to get the animals fed, walked, watered and mucked out before the rain arrived.   The first spots started just after 8am.
They have forecast 20-40mm for the day which could be the heaviest fall so far this year.  We probably won't get as much as that here, as we are a little bit higher on the edge of the Whicher Range scarp.  The main rains come from the northwest, much of it falls on the lowlands before getting up to us.    It has been 10 days since the last rain and we only got 30mm for the whole of April (compared to an average of 37mm) and 15mm in March which was average.  The average for May is over 100mm, so fingers crossed.
The April average max temperature was 2 degrees above the normal at 26 degrees with a couple of hot 33 degree days earlier in the month.