Sowing our Oats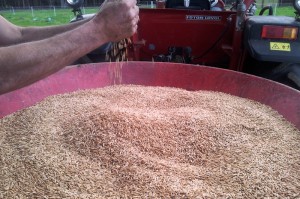 We have sown Swan oats for hay over the last couple of years and this year we decided to try a different variety.  We were going to sow Carrolup, the most popular dual purpose oats in WA (milling or hay), but our local blokes at CRT  couldn't get any in.  We ended up with winjardie oats a late maturing, high yielding variety which is often grown for the export hay market (unlike Swan).  It is shorter than Swan, but is usually sown in lower rainfall areas, so it will be interesting to see how it develops. It is also susceptible to rust which we were hoping to avoid this year.
It is sown at 100-110 kg/ha, so we squeezed 150kg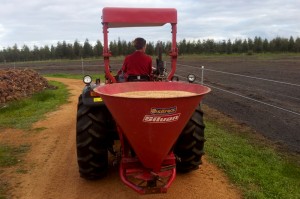 into the super spreader and I trundled off.  I am always cautious with opening the feed gate to the spreader as I can go round twice to get the right coverage, but if I drop the whole batch on the first circuit, it is an expensive mistake.   I opened the gate a bit more on the second loop and got a good even coverage across the whole paddock.