We've Got Goats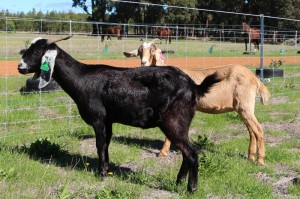 After over 15 months of planning, and 2 months of preparation, I went to collect our two goats this afternoon.  I put some carpet in the back of the ute and drove 16km down the road to Koonac Goat Farm.
I had first read about dairy goats in Mother Earth Newsletter in June 2011 and decided that I liked the Anglo Nubian more than Alpine types both for looks and their milk production.  As luck would have it, Koonac are expanding the breeds on their property and have added some dairy goats to their predominantly Boer meat goat flock.   They had 3 black Anglo Nubian/Boer crosses born in 2011 and had 5 Anglo Nubian/Saanen born in 2012 that would be available.   Both were sired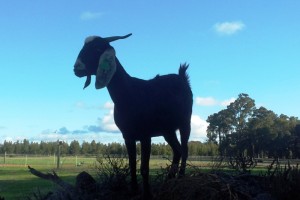 by a big Black Anglo Nubian buck called Angus (who sadly died 2 days before) and have the same white smudge on their heads.  (Angus is from proud sounding lines with Sires named Napolean, Anubis, Patheous, Masterpiece and Rocket and Dams, Neave, Mystery, Negrita, Rachael and Teagan.)
My first visit to their farm was in May last year and I had been back a couple of times this year too in February and April to get to know Midge, the black goat, and ease her move away from Koonac.   I had seen Smudge in the herd, but had not been close to her before today. Andreas and Sonja had separated them from their flocks and they were getting to know each other in a holding pen when I arrived.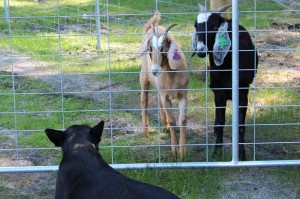 Both were pretty vocal and calling out to their herd buddies which was sad.
With a bit of persuasion they walked up the ramp and got into the back of the ute.  I drove slowly down their drive, and was relieved when they both laid down and stayed settled for the whole journey.    I reversed up to our mini mountain in the paddock and first Midge, then Smudge hopped out and  I left them to explore for a little.
The dog was really good and sat quietly outside the gate, but the horses were completely freaked out and ran round and round their paddock then stood at the far side staring at them.   The horses were so agitated, they wouldn't even come in for tea, so I had to leave them out in the paddock overnight – luckily it was only forecast to get down to about 13 which is not too cold.   When I went back in to the girls after the bird feeding rounds, Midge was all quivering, so I stroked her for a bit and got her to eat some hay.